Home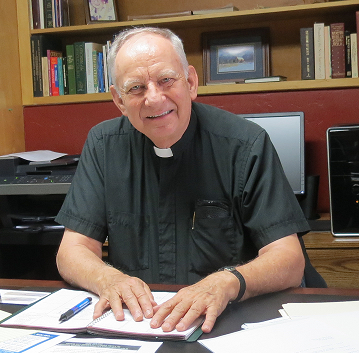 Fr. Valentine Jankowski, O.F.M., Conv.
Las Cruces, New Mexico 88001
Office: 575-526-8171
Fax: 575-523-1175
After hours & emergencies, please call the friary at:
575-652-3603
Fiesta of Our Lady of Guadalupe
Schedule of Activities
December 10, 2021
6:30pm Procession from The Capilla to the church
7:00pm Rosary
December 11,2021
6:00am Pilgrimage with the Humero, Asistente and Capitanes
**Pilgrimage will NOT be sponsored by the Pueblo**
7:30pm Los Abuelos Ceremony at La Casa del Pueblo
**Participants (Los Abuelos) of Pilgrimage**
8:00pm "Ensayo Real" (Royal Practice) at La Casa del Pueblo
December 12, 2021
9:00am Mass
10:30am Indian and Danzante Dancers in front of Santuario
12:00pm Traditional Fiesta meal at La Casa de la Comida **Closed to the public**
1:00pm Indian and Danzante dancing continues
4:00pm Procession around Tortugas Village
5:00pm Rosary and Eucharistic Benediction at the Santuario
**We request everyone's support and patience as we take necessary measures to protect our community. This schedule is subject to change with COVID-19 restrictions**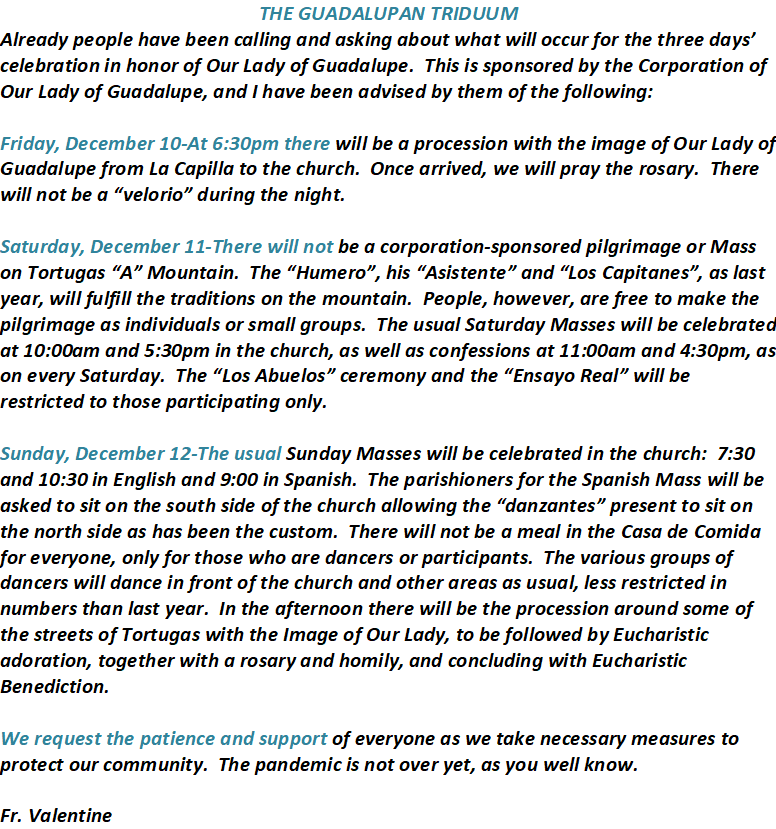 "…They called the church together and reported what God had done with them and how he had opened the door of faith..."(Acts 14:27).
Mass Schedule
Monday through Friday -- 8:00 a.m.
Saturday -- 10:00 a.m. and
5:30 p.m. (Sunday Obligation)
Sundays -- 7:30 a.m (English)
9:00 a.m. (Spanish)
10:30 a.m. (English)
Holy Days of Obligation: As noted in bulletin
Confessions -- Saturdays 11:00 a.m. & 4:30-5:15 p.m.
Office Staff: Kathy Paz, Secretary