Home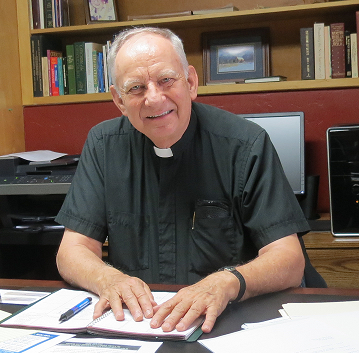 Fr. Valentine Jankowski, O.F.M., Conv.
Las Cruces, New Mexico 88001
Office: 575-526-8171
Fax: 575-523-1175
Religious Ed: 575-525-1966
After hours & emergencies
Please call the friary at:
575-652-3603
Click on above image to learn more about United in Ministry 2019

"…They called the church together and reported what God had done with them and how he had opened the door of faith..."(Acts 14:27).
Mass Schedule
Monday through Friday -- 8:00 a.m.
Saturdays -- 5:30 p.m. (Sunday Obligation)
Sundays -- 7:30 a.m (English)
9:00 a.m. (Spanish)
10:30 a.m. (English)
Holy Days of Obligation: As noted in bulletin
Confessions -- 4:30-5:15 p.m. on Saturdays
Office Staff:
Kathy Paz, Secretary
Margarita Padilla, Bookkeeper
Margie Graham, DRE